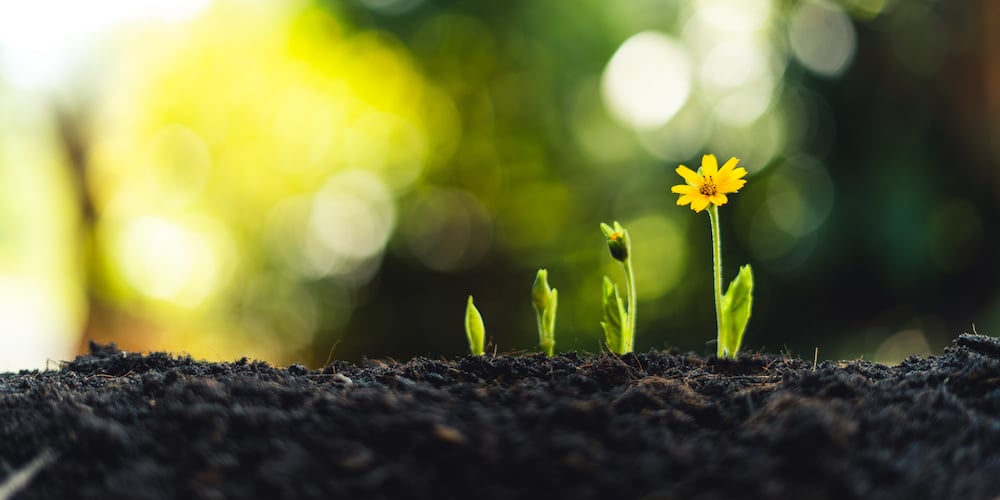 Jordan de Burgh Whyte brings a focus on innovation and problem-solving from her clinical experience to an evolving, leadership role in practice support with Corus.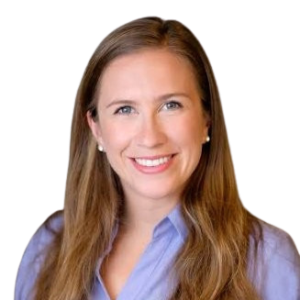 My career in orthodontics has been an incredibly fulfilling journey thus far. Along my path, I'm proud to say I've developed a portfolio of skills that has led me to the position I currently hold—and love. My story spans two decades, six roles, five organizations and countless highlights. Along the way, I've been fortunate to work with fantastic colleagues, learn from the best in the business, and build a rewarding career. 
My first few years working directly with patients at the individual practice level provided me with valuable insights that continue to inform my current leadership role with Corus' business support team. I now empower Coaches who support 60+ clinics across North America. Having seen so many aspects of orthodontics, there's one thing I've learned that has tied it all together: the smoother your clinical operational systems are, the more energy and time your clinical team members can spend helping patients receive exceptional care—and everyone goes home much happier and more fulfilled.
That principle has become my North Star.
Where My Career in Orthodontics Started
Seventeen years ago, fresh out of college, I began my career journey on the clinical side as an Orthodontic Assistant at Shoreline Orthodontics on Vancouver Island, British Columbia. I was responsible for a wide variety of duties, such as maintaining records, training new staff, managing outside scans, and helping doctors with case compilations.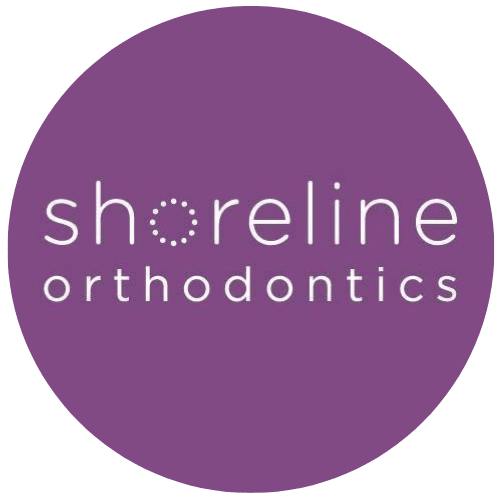 In this role, I was fortunate to learn a lot from everyone around me, including guidance and clinical mentorship from Dr. Paul Helpard, who is now Corus' Founder and CEO. He had a skilled team of orthodontic assistants who took me under their wing. My colleagues had decades of experience, plenty of patience, a willingness to teach, and were generous with their time—qualities I still try to emulate today.
Throughout these early years, I was also exposed to some of the best consultants in our industry. Hungry to learn, I took on extra courses to expand my skill set, which also heightened my interest in the specialty. This tech-forward industry is constantly evolving, and I learned I could have a career in orthodontics, not just a job. 
Developing My Skills & Stepping Up
Over the next few years, I worked for various other organizations, gaining knowledge, connections, and learning how other practices excelled through different but equally efficient operations.
Working in a chairside and lab Assistant role, I learned about pouring and finishing study models, as well as how to make orthodontic retainers and sports guards. As a Receptionist, I learned about inventory control, insurance claims, managing patient recalls, and how to improve my overall patient communications. 
That hard work and extra effort paid off. After a number of years, leveraging my experience, I returned to Shoreline Orthodontics as Operations Manager. This was a pivotal moment in my career!
The new position required a lot of "learning by doing." Jumping into the deep end, I gained additional responsibilities within a more senior level of the business. Helping the practice expand from two clinical locations to five, I learned about building new spaces, training associate doctors, and helping onboard new team members.
I was thrilled to have this opportunity to gain first-hand knowledge of business structure and processes. The professional development was exhilarating and prepared me further for what was to come.
Joining a New Network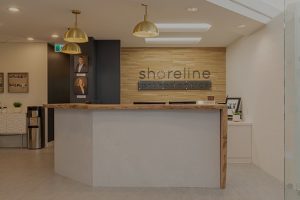 In 2019, Shoreline Orthodontics took its own step forward, becoming an integral part of the founding practices that formed Corus Orthodontists. As a new orthodontic service organization (OSO), Corus needed to develop a home-based support office, and all of my past experience positioned me perfectly for the opportunity.
The Director of Operations, Travis Beamish, was one of the leaders looking for recruits, and I was hired to join his team as a Regional Practice Support Manager. As one of the OSO's first regional Coaches, I was responsible for supporting a portfolio of doctors and practice managers across Western Canada and the United States. This was a new challenge with increased accountability—and I was ready for it.
As part of a fast-growing OSO, the opportunities to develop my career were everywhere. I met many new people and was introduced to new practices joining the network. Each day, I had to think on my feet, use my critical thinking skills, and find solutions to ensure the practice operations would run smoothly during their integrations. 
Alongside our network, our internal operations team was also growing, and as we reshuffled our portfolios to support all the new clinics, my role expanded again. In just over a year, I celebrated another promotion, and my focus transitioned from being a regional coach to a broader, leadership role where I would support all the clinics across North America.
Graduating to a Leadership Position
Now, as the Senior Manager of Regional Practice Support, I lead a remote team of regional operational practice support Coaches. Spanning North America, from Ontario and British Columbia to Texas and Alaska, we support the operations of an ever-growing portfolio of clinics—analyzing data, sharing best practices across our network, and finding creative solutions to their unique operational challenges. Our goal is to help them become more efficient and clear the way so they can focus on what matters most: patient care.
In this leadership role, I'm building a team that will continue to support a rapidly growing number of clinics. Much like that first team of orthodontic assistants 15 years ago, my goal is to coach and mentor, and use the skills I have developed throughout my career to help others.
The move into a more senior role was a natural progression for me, since I love to solve problems and create systems. And my real-life operational experience, both at the clinic level and in the back office, fully prepared me for the opportunity.
The Human Experience Keeps Me Motivated
I do miss the hands-on, technical and clinical side of orthodontics. I enjoyed finding ways to put a patient at ease and connecting with people in my community. I miss getting to know the patients and watching them transform over time, as well as the day-to-day camaraderie of working with the whole clinical team. However, people are the foundation of every role. It's exciting to now be at a place in my career where I can work with coaches on projects that will ultimately help move so many clinics forward in their growth and development.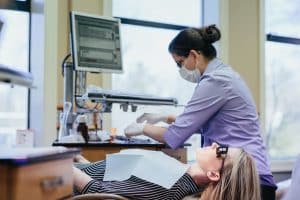 Like many workplaces over the past couple of years, we're building a strong team culture in a remote environment, which is no easy task.
Fortunately, our corporate culture is strong, and I feel very connected to my office colleagues, despite our spanning geography.
The strong core values at Corus help guide us. We take them to heart, including supporting each other, pushing for greatness, and being open and transparent. We make an effort to get to know each other and there are many opportunities to collaborate and showcase creativity. This approach bonds our close-knit team and has helped attract talented remote-based coaches.
To me, all of this comes back to the human side of our work days. We want our team members to feel satisfied with a job well done, that their days run smoothly, and that they can go home to their families feeling positive. And, of course, we want the patients they see each day to have a great experience. I know how important this is, as the human experience has been essential to all the positions in my career.
It's a Diverse Team Effort!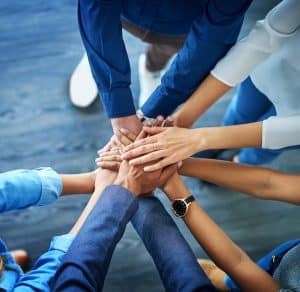 Having a clinical background helped me build instant credibility because I can "speak the language." While my previous orthodontics experience is vital when connecting with different clinics, our whole team complements each other's skills in different ways. 
For example, I have team members from other industries who bring different perspectives to each project along with a checkerboard of skills. This diversity makes us a powerhouse when it comes to sharing best practices and solving operational challenges for doctors and practice managers.
As a leader, it's essential to recognize the talents of the team and make space for each person to excel. And as practice Coaches, whether related to national safety protocols, a competitive labor market, or small hiccups in day-to-day operations, we can leverage the diversity of our team members' experience.
Growing With Corus
My career with Corus has evolved beyond my expectations. As is the case for many Practice Managers, running a solo practice can sometimes be isolating. You're working to solve issues on your own or just with your doctor. But within a network like Corus, I've learned there could be 50 other people who have had the same issue and have worked through it before. What's even more empowering is that I can go to anyone in the organization for support—nearing 1,000 people—to come up with tangible solutions and creative answers. That's like opening the door to a never-ending fount of knowledge.
As part of the home-based operational team, I love that we're also the connectors.

We've been there, we've seen this before and we're going to connect you with the right person. Our team of Coaches are problem solvers and process improvers, taking machines that are already finely tuned—innovative, cutting-edge orthodontic practices—and tweaking processes even further. We ensure that the focus can remain on creating positive experiences for staff and patients. That gives me a great sense of purpose and fulfillment.
This is really what I value most about being a member of our Corus team—the ability to connect with people all over North America and learn from them. I'm also excited to share what I have learned along the way to make their days smoother and help them provide the best care for their patients.
What's next in my career journey?
Time will tell. Wherever my career takes me next, I will continue to be inspired by the dynamic and ever-changing nature of orthodontics. The opportunity to innovate, improve, and grow within an OSO like Corus is exciting, and I know that great things lie ahead!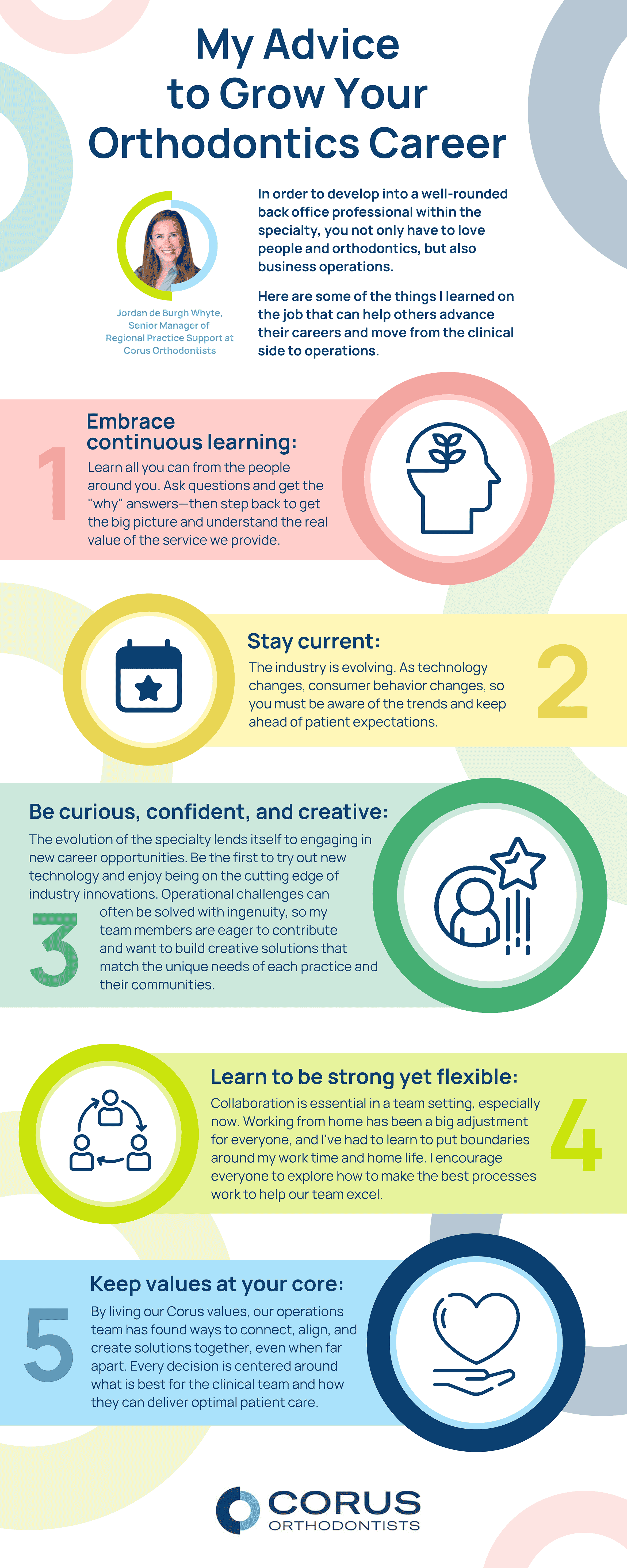 ---
Learn more about joining Corus and building your career as part of our network. Find a position that suits you or learn more about our team culture. We're excited to meet you!