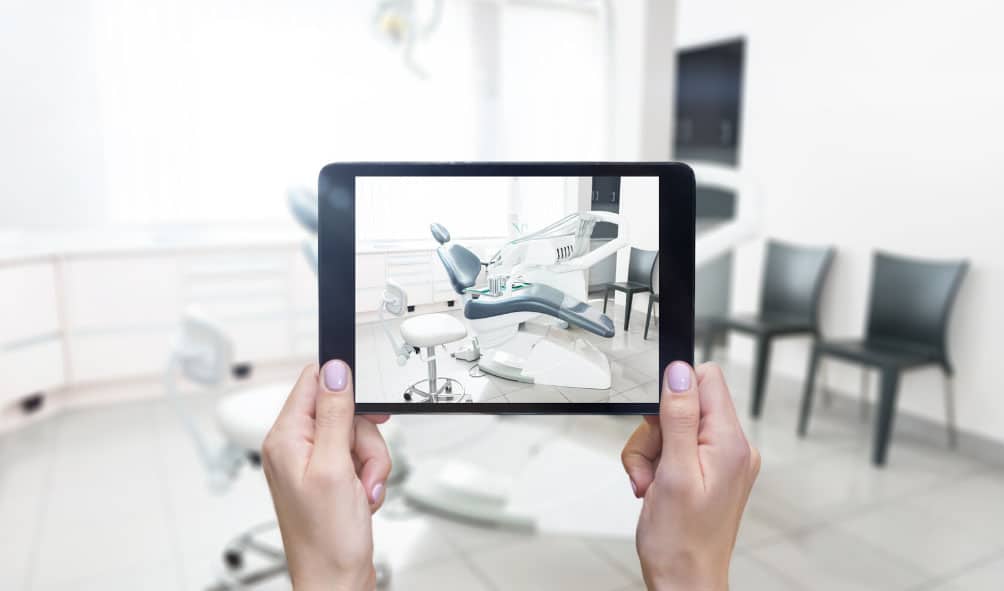 Author: Paul Helpard, CEO, Corus Orthodontists
Providing care when you can't be there
It has been over two weeks since many of our clinics closed their doors. This quickly prompted our team to consider how to manage one of the most fundamental elements of our industry: current and future patient appointments.
When the Corus team realized the COVID-19 pandemic would result in a lengthy closure of our offices, we recognized we had two options to stay connected and continue to see our patients:
Remote Care: provide treatment advice by phone call;
Virtual Care: provide treatment advice by video call.
Why its important to continue to provide care? In a time of uncertainty, we must:
Stay connected with ALL current patients.
Monitor progress and identify issues with active patients.
Provide a way to alleviate patient concerns and anxiety.
Provide consultations for new patients and prioritize high probability starts for our return to clinic.
As we enter a new phase of orthodontics, here are four important considerations to provide seamless remote and virtual patient care:
1. How to SEE your patients when you can't see them:
With both remote and virtual care options, you may need to request the patient send images for your review. We recommend tools like Dental Monitoring and SmileSnap. The alternative is to provide your own instructions to patients so that they can create images of sufficient quality to use for treatment advice. Download Corus Orthodontists instructions here.
2. A system for organization:
To create a strong, ongoing care solution, determining which patient visits require remote versus virtual care visits and which require photos will help you streamline your initial outreach and scheduling of appointments. Corus tested different approaches to remote and virtual care in several of our offices and determined that 90% of visits could be done with Remote Care and 10% required Virtual Care. On average, the remote calls take 10 minutes to complete with good scripting and the virtual calls take 15 to 30 minutes to complete.
Our suggested approach to organize visit looks like this: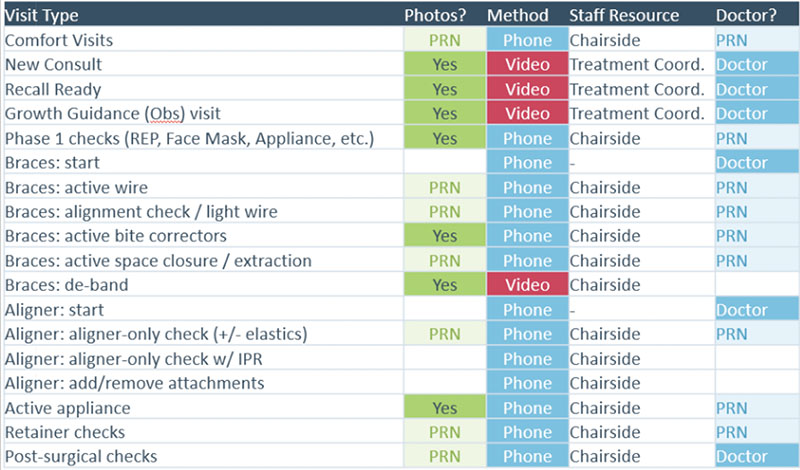 1. Being prepared with scripts
We have been working with our teams to create scripting that supports remote care. This allows for more appointments to be completed in a day and ensures we have covered everything we need to check within individual appointments. A sample of the Corus remote care script can be found here.
2. Having effective software for safety and connection
Corus has ensured our treatment co-ordinators, chairside assistants and administrative staff all have remote access to our practice management software from home. To do this, we created VPN (remote) connections and implemented cybersecurity and health information protection protocols. In addition, most team members are using their personal cell phones from home which required them to use appropriate privacy settings on their phone to block their ID.
We have tested several virtual video platforms and have selected Doxy as our final solution. Check back next week when we'll be sharing an update on how we are progressing to a routine daily clinic schedule with care delivered remotely and virtually.
Our team members and doctors have contacted all scheduled patients to let them know that we are available for emergency care, answer any pressing questions and schedule remote and virtual care as necessary in the weeks to come. Please contact us if you have any questions or would like to learn more about Corus Orthodontists' new approach to patient care.