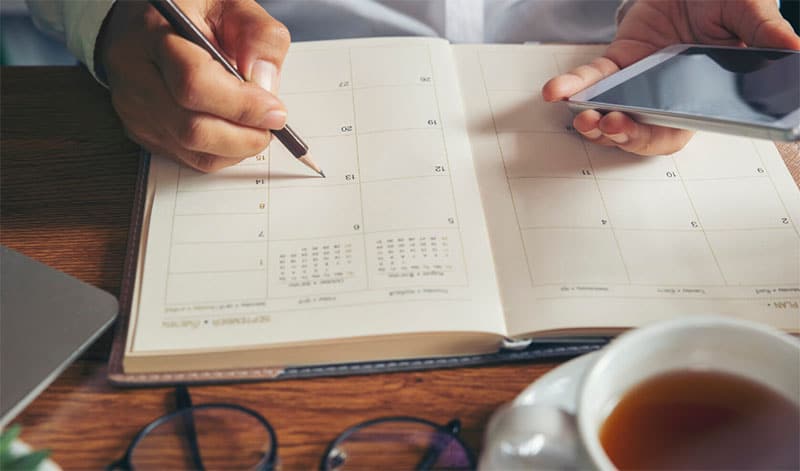 Author: Travis Beamish, Director of Operations, Corus Orthodontists
Virtual and Remote Clinic Scheduling Solutions:
In the weeks following our clinic closures, our leadership team and practice network have learned many lessons in the pursuit of providing treatment advice without a physical office. This shared crisis has created an opportunity for Corus Orthodontists to develop a model that will re-define industry standards of remote and virtual care.
We've determined that 90% of our treatment advice can be given remotely (over the phone). The 10% that must be delivered virtually (by video) includes:
1. New Patient exams and consultations.
2. Recall exams that we expect are ready for treatment.
3. Growth guidance or recall exams.
4. Deband checks.
5. Comfort calls that require the doctor seeing the patient live.
6. Appointments where the patient requests to see the doctor directly after the remote call.
Since launching our remote and virtual appointment services last week, clinics across our network have contacted their cancelled patients remotely (by phone) and caught up on missed visits. All exams that would typically occur in the treatment coordinator room must now be tackled virtually and the care visits that were scheduled for each clinic day must be managed remotely.
Corus Remote & Virtual Care Model:
After testing several software options, we have determined that Doxy clinical video program is the most effective at replicating our in-person exam visits. The efficient and sustainable use of Doxy involves 2 virtual chairs, each led by a team member. In our model, the first chair is run by a treatment coordinator who sees New Patient and Recall exams that are ready for treatment. The second chair is managed by a chairside assistant who sees Recall exams, deband checks and comfort calls.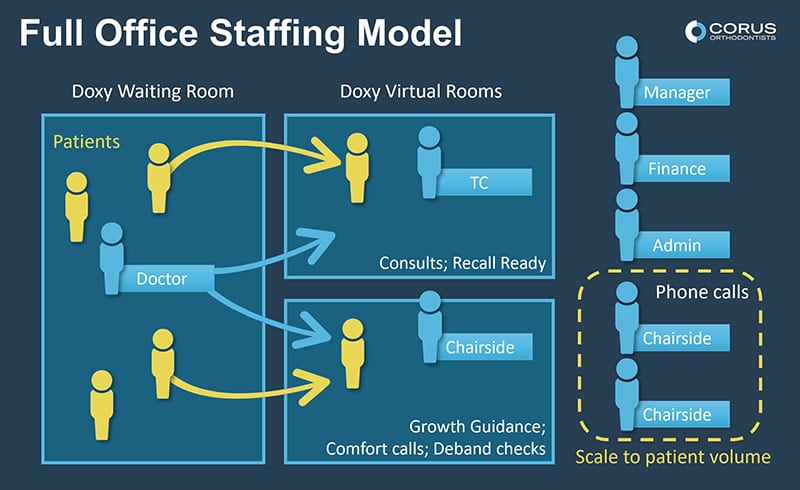 Virtual Care Timeline:
This platform is capable of replicating what we need to do, but it isn't the same as patients moving through a clinic in person. Practices across our network ran trials with multiple team members pretending to be patients so they could work through the details such as notifying the Doctor that they were needed in the virtual room.  To gain comfort and confidence, we also eased our way into using the technology over three weeks. We started with virtual visits to avoid in-person emergency (comfort) visits when possible. We then scheduled virtual visits in a single chair (typically just new patient exams) with plenty of time between patients.  The second doxy chair and chairside remote (phone) care visits were added this week as result of our learnings throughout this process.

Patient Support Scripting:
During this process we recognized that certain patients do not want to have a virtual exam and may still be too anxious about the crisis to participate. We have developed scripting for our team members to ensure that patients are being offered the opportunity for a virtual visit. This scripting acknowledges the limitations of a virtual exam and makes it clear that it will never replace the need for a full in-office assessment.
Through the new virtual patient exam, we can give a rough treatment plan, review payment options, and answer all questions. Our aim is to use these virtual exams effectively and establish a prioritized list of committed patients who will be prepared to start treatment once we are ready to resume in-office services.
Early results:
Thus far we have received very positive feedback from the majority of our patients, with some requesting this service continue after offices re-open. Certain patients do remain un-interested in these alternatives, and we stress the importance of clarifying it is an optional service. As we progress forward together through this time, we remain connected and prepared to support our practices and our patients in every way possible.